Pantheist Cloud //

New Geometries / 2015
Questions of meaning & replies of trees.
40" acrylic dome. Live species inside.

Step into an experiential, wild environment. Inside the dome, one suddenly felt enveloped by a small forest, immersed in woody smells.
Due to its 'live' nature, Pantheist Cloud was a temporal, ephemeral experience, coming to life and passing away within the span of three days. Only the experience and these documents remain.



001a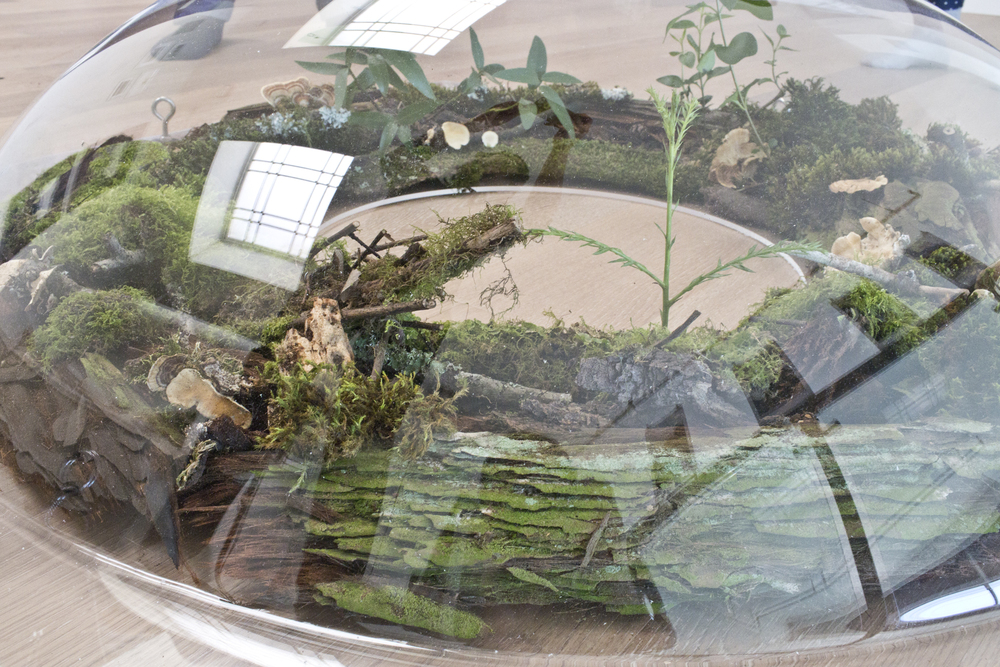 001b
001c
Q&A: The Absurdist

Who is The Absurdist?
The Absurdist was born out of an existential need to celebrate the freeing understanding of the absurd. The Absurdist works predominantly in the abstract medium of the mind, occasionally stepping out of this realm to embrace an even more-absurd-than-life endeavor: art. Where did the idea for Pantheist Cloud originate?
We began with the idea of 'the experience as an art object.' Experiencing life [and art] solely for the thrill of the experience itself, distilled down to its essence, has been one of the kernels of discussion and inspiration for The Absurdist, and as such, we wanted to create something that depicted this existential thought. The physical shape was conceived after debating what Geometry—and a New one at that—would look like for us. Geometry in its purest form delivered us the sphere, and the New-ness did the rest…
Tell me about the process of creating Pantheist Cloud. What materials did you use?
The process was fast-paced, and we found ourselves happy in the haze of having so little time to make it. Decisions were easy, given the time constraints and limited options we had. We commissioned a 'globe' from an acrylic/skylight company in Berkeley, our neighbor Workshop in West Oakland made the closure. Finishes and assembly were Absurdist-made in our HQ in . . . Let's keep that a mystery for now.




001d
001e
001f

How does one interact with Pantheist Cloud? What kind of experience did you want to create?
The main thing is to get in there! Feel, breathe, think, not think, listen, observe, let it talk to you, talk back, look around, look in, get in, get get out.
Pantheist Cloud contained live species, thus making it transient and temporal. How did that affect your approach to art-making?
We employed a very tender approach. The 'subject matter' became a 'live subject' and therefore the art-making was very different; it was an emotional experience all the way through, like playing with a kid one just met at the beach—willing to engage but with its own ideas of what it wants to do, what it wants to be.
What is next for the Absurdist?
Interactions, situations, absurd graffiti, a silent play. Lunch.
The Thumbsuckle //
A Recipe for Automatic Comfort _

For Rec Rec Rec Mag / Winter 2015
A Recipe
The Thumbsuckle is an edible way to address the existential need for stress release and comfort. In a study with premature infants, researchers found that those who sucked their thumbs become emotionally more independent at a younger age and have higher self-confidence. Rhythmic sucking actually optimized the heart beats and breathing patterns, slowing them and regularizing the rhythms. Due to aesthetic considerations and social constrains as well as the belief in the need to find other ways to cope with anxiety, thumb-sucking has been ostracized for adults. To give permission and allow for aforementioned health benefits, we have develop the Thumbsuckle. Get ready for automatic comfort!

Ingredients

1.5 cups sugar
1/2 cup honey
1 tb lavender extract
1 cup heavy or whipping cream
4oz salted butter, room temperature
coarse sea salt
special equipment: candy thermometer

Combine sugar, honey, and lavender extract in a large non-reactive pot. Turn on the heat and let the sugar and honey melt and cook until caramelized (it will slowly become a deep, dark brown color.) While the sugar is cooking, bring the cream to a simmer. When the sugar reaches the color you like, whisk in the butter in small knobs, until well mixed, then add the warmed cream, whisk until smooth. We let this mixture cook until the temperature reached 233F. Pour the hot caramel onto a cookie sheet lined with parchment. Let cool about ten minutes, and then sprinkle with coarse sea salt. Continue to let it come to room temperature, and then cut into small rectangles, roll, and wrap around your thumb or save in packets of parchment or waxed paper for later. Alternate flavors may include: chamomile, valerian, passionflower, marigold and linden flower.

Machines for Absurd Living—
STOREFRONTLAB / 2016
Curated by Arianne Gelardin.

Machines for Absurd Living are interactive tools that confront the audience with speculations of existential origin. By guiding the spectator on a journey through essential and consequential concepts—time, detachment, the self & the sublime—we pose the question of human existence. Art object translates into experience. The machines are a situational attempt to address individual dissonance over the absurdity of inherent meaning through simple interactions that prompt existential thought.



The first piece, MACHINE #1 / EXISTENTIAL LIFE CALCULATOR, addresses one of the most relentless of human struggles: our temporality in the physical world. Using statistical calculations, the machine determines how many hours one has left to live. Printing this conclusion on a receipt for the beholder, the machine prompts us to consider time as a currency to be well spent.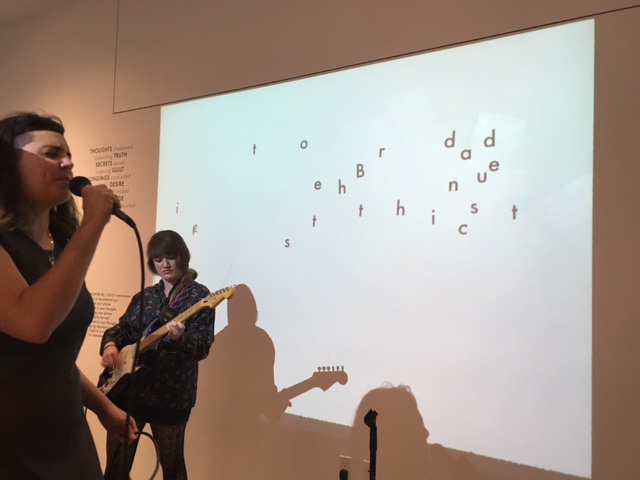 Once we are conscious of our physical limitations, we proceed to the next stage, where we are purged of unnecessary burdens. In MACHINE #2 / GUILT DECONSTRUCTION, the audience is confronted with a confession exercise: Using personal smart devices, the participant types out feelings of guilt, repressed desires, ill thoughts or wrong actions, and releases them—even through encrypted technology—with a cathartic physical gesture onto a wall projection. Collectively and through this exercise, we speculate a relief, a realization of the futility of ill conscience. We anticipate that this 'action' will establish a modern approach to absolution and provide the user with a way of resolving ill feelings into a healthier, conscious state. "Healthy remorse" is then deconstructed to the essence of language: letters, fall in a random shower, piling collective layers of guilt and contradiction.





After guilt catharsis occurs, MACHINE #3 / THE SELF-EYE addresses the question of the self. A performance of self-awareness presents the beholder with a reflection of his/her own organic tool for
ocular imagery: the iris. The self-examination room for such an exploration is equally intimate.





Finally, we included THE PANTHEISTIC CLOUD, as the last Machine and the closing element of the exhibit, communion with nature as the final step in becoming human.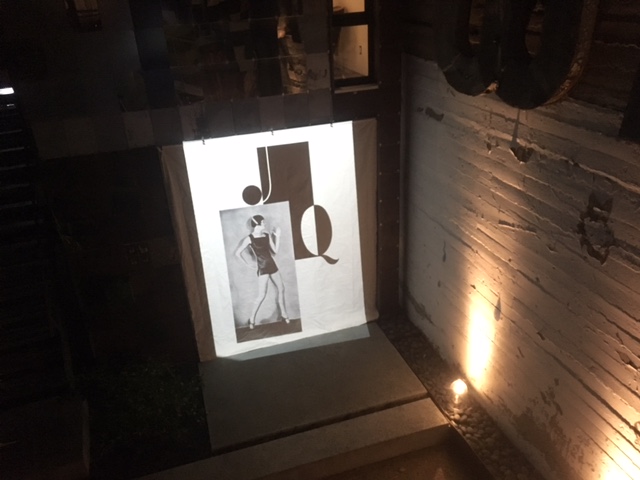 The one month long exhibit presented performances every week that included:

1a. Dance Performance of ABECEDA, with poems by Vítezlav Nezval, typographic design by Karel Tiege and dance compositions by Milca Mayerová.
1b. Semantic Deviations: poems readings simultaneously in different languages.
1c. Absurd Screenings, a compilation of moments in cinema depicting Absurdism philosophy, collected by Jacob Daniel Palmer.



Time Machine //
Existential Life
Calculator _


Machines for Absurd Living / 2016
The Absurdist at STOREFRONTLAB, San Francisco
MACHINE #1 addresses one of the most relentless of human struggles: our temporality in the physical world. Using statistical calculations, the ma- chine determines how many hours one has left to live. Printing this conclusion on a receipt for the beholder, the machine prompts us to consider time as a currency to be well spent.




"My field", says Goethe, "is time". That is indeed the absurd speech. What, in fact is the absurd man ? He who, without negating it, does nothing for the eternal. Not that nostalgia is foreign to him. But he prefers his courage and his reasoning. The first teaches him to leave without appeal and to get along with what he has; the second informs him of his limits. Assured of his temporally limited freedom, of his revolt devoid of future, and of his mortal consciousness, he lives out his adventure within the span of his lifetime. That is his field, that is his action, which he shields from any judgement but his own. A greater life cannot mean for him another life. That would be unfair. I am not even speaking here of that paltry eternity that is called posterity (...) There can be no question on holding forth on ethics."

Camus -

The Myth of Sisyphus.


Spheres of Privilege //
It's the invisible, the unspeakable, what keeps us blind and deaf _




First published May 26-27, 2020 at: Beyond 2020: A (Post-) Pandemic Festival
Swissnex, San Francisco By Manuelita Antonio, Nico Brühlmann & Larissa Murangira.
Visuals by Pablo Peña.

Spheres of Privilege is an online interactive tool which aims to create a consensual safe space for reflections and an exchange around privilege. Being constantly exposed from behind our screens to violent racist, homophobic, sexist and other unequal situations, to start conversations around privilege has been an urgent topic during the pandemic. Synthesizing a survey of fundamental questions about race, class, and gender during specific chapters of life – the aim is to invite people to raise their voices and share about their underprivileged moments, or be confronted and aware of their privileges. These answers are then collected into a library of experiences, accessible to everyone to freely educate themselves on the different gaps of access to resources like education and services, the inequalities and violences that others can endure, with the wish to encourage people to make the first steps and adjustments in their daily lives to shorten these gaps and extend the conversation about privilege.